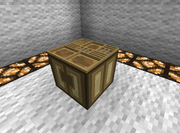 The Typesetting Table is an item found in Bibliocraft that copies a signed book on to a Print Press Chase. The chases are then put into a Printing Press to make copies of the book.

Once a book is signed, start by creating extra chases to be put in the top center console of the typesetter, then place your signed book in the bottom left corner to be saved with shift and right clicking. Your book will then become blue and saved to your typesetter, now, between the little notches on the right of your chases right click to then open up a mini screen that will show your saved books, click on your saved book one time to then be able to save it into a print press chase. Now place a button or some sort of redstone current to your typesetter and give it one pulse, which will give you a new chase on the bottom right corner to be placed into the printing press to use. You have now created a re-printable book chase.
Crafting
Edit
Ad blocker interference detected!
Wikia is a free-to-use site that makes money from advertising. We have a modified experience for viewers using ad blockers

Wikia is not accessible if you've made further modifications. Remove the custom ad blocker rule(s) and the page will load as expected.