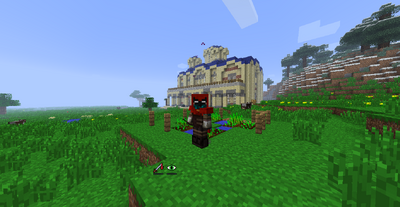 Thief Armor
is part of the
Hexxit Gear
 mod. It is one of three sets of Hexxit Gear Armor. When all four parts of the armor are equipped, the player will experience special abilities, as well as giving the player the maximum 20 Armor Points, the equivalent of a full set of diamond armor. It is best suited to the 'Rogue' style of gameplay, charging in and out with a fast weapon like a Trickster dagger or a Rapier, outmaneuvering opponents.
Abilities
Edit
Once all four pieces of armor are equipped, the player acquires unlimited Night Vision, Strength, and Speed potion effects. The speed boost will work even while riding mounts, so it is recommended to take off a piece of the armor before riding a fast ridable mob such as a Chocobo - the world may not load fast enough to match your speed and may also cause lag.
For the full set you will need:
Thiefs Hood (3 Armor Points)

Thiefs Chestpiece (8 Armor Points)

Thiefs Leggings (6 Armor Points)

Thiefs Boots (3 Armor Points)
If you enter a Dimensional Door with the night vision buff, everything will appear completely black until the buff expires. Only particle effects, such as torch flames or notes from note blocks, will be visible. The Tribal Armor also shares this bug.
On Survival Mode with this armour, some players experience problems getting the built-in speed buff to work except riding Chocobos, Sprinting and jumping, and while in Creative Mode.
Ad blocker interference detected!
Wikia is a free-to-use site that makes money from advertising. We have a modified experience for viewers using ad blockers

Wikia is not accessible if you've made further modifications. Remove the custom ad blocker rule(s) and the page will load as expected.