Smoking Block
ID
1354/0
Stackable
Yes (64)
Type
Unknown
Craftable
No
Added By
Twilight Forest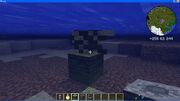 A Smoking Block is a breakable block that emits a semi-view obstructing smoke. It is part of the Twilight Forest mod, and cannot be crafted.
It has its own physics, for example, when placed underneath a canopy of some sort, say, a tree, the smoke will billow out and around it, at least to the end of its range, which is approx. 30 blocks, straight up. It is not able to be controlled by redstone. It will become visible within 60-61 blocks.
The Smoking Block will work underwater, but you will be unable to see the other half depending upon your relation with water.
It is used only to craft an Encased Smoker.
Ad blocker interference detected!
Wikia is a free-to-use site that makes money from advertising. We have a modified experience for viewers using ad blockers

Wikia is not accessible if you've made further modifications. Remove the custom ad blocker rule(s) and the page will load as expected.