Shelf
ID
Unknown
Stackable
Yes (64)
Type
Containers
Craftable
Yes
Added By
Bibliocraft
Shelf
is an item added by the 
Bibliocraft
 mod. Shelves are used to display any item or block that you place inside of them. They can be crafted or found in chests in pirate ships. Shelves can hold up to a full stack of items in each slot, and every shelf has four slots. Shelves will connect when placed together.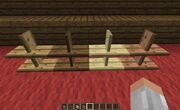 Right clicking the Shelf with any Block or Item will put it straight on the shelf, in the space that you are looking at. Right clicking an item or block that is on the Shelf will cause that item or block to pop off. Sneak right-clicking with an empty hand or right-clicking an empty space on shelf will open a GUI where you can manually place Blocks or Items in the slots available.
Crafting
Edit
Ad blocker interference detected!
Wikia is a free-to-use site that makes money from advertising. We have a modified experience for viewers using ad blockers

Wikia is not accessible if you've made further modifications. Remove the custom ad blocker rule(s) and the page will load as expected.