A redwood lush is a biome added by the ExtrabiomesXL mod. It is full of tall redwoods (not the ones in the redwood forest) that have pyrimental patterns of leaves, which make the minimap look very interesting, as you see (on surface mode) "spikes" on your minimap.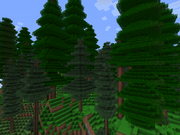 Ad blocker interference detected!
Wikia is a free-to-use site that makes money from advertising. We have a modified experience for viewers using ad blockers

Wikia is not accessible if you've made further modifications. Remove the custom ad blocker rule(s) and the page will load as expected.