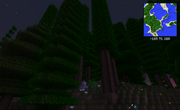 Redwood forests are added with the ExtrabiomesXL mod. True to their name, they commonly have very large redwood trees that can exceed 60 blocks in height. They can also have steep cliffs and overhangs.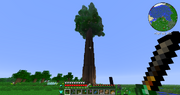 In addition, there is one other type of redwood most commonly found in meadows, which grow to be about 200-250 blocks tall. They have a thick outer bark and a wood interior. The bark and interior both give 4 planks when crafted. Note that this kind of redwood tree is from the Natura mod.
Ad blocker interference detected!
Wikia is a free-to-use site that makes money from advertising. We have a modified experience for viewers using ad blockers

Wikia is not accessible if you've made further modifications. Remove the custom ad blocker rule(s) and the page will load as expected.