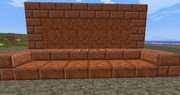 Red Rock is a naturally occurring block in the Mountain Ridge biome added by the ExtrabiomesXL mod. It can be mined, yielding Red Cobblestone. It can be obtained by mining it while using a Silk Touch pickaxe or smelting the red cobblestone in a furnace. It can be crafted into Red Rock Bricks and Red Rock Slabs. Red cobblestone can be mixed with three buckets of water in a shapeless recipe to get four pieces of clay. You will also get the buckets back. 
It most likely gained the name "Red Rock" to avoid confusion with Redstone.
Ad blocker interference detected!
Wikia is a free-to-use site that makes money from advertising. We have a modified experience for viewers using ad blockers

Wikia is not accessible if you've made further modifications. Remove the custom ad blocker rule(s) and the page will load as expected.