The
penguin
is a neutral mob that does 3 damage (1 1/2 hearts) and has 15 health (7 1/2 hearts). It spawns in snowy biomes, but is able to travel and be seen in biomes nearby. They often spawn in groups but are also seen alone.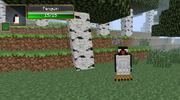 Drops: 0-1 feathers, 0-1 small heart, 0-2 scrap meat, and rarely drops 1 head.
You can breed 2 adult penguins using raw fish.
Ad blocker interference detected!
Wikia is a free-to-use site that makes money from advertising. We have a modified experience for viewers using ad blockers

Wikia is not accessible if you've made further modifications. Remove the custom ad blocker rule(s) and the page will load as expected.