Nether Star
ID
Stackable
64
Type
Unknown
Craftable
No
Is Loot
Yes
Added By
Vanilla
Visit the Minecraft Wiki for basic information about Nether Star
Nether Star is an item added by Vanilla Minecraft. It can be acquired by killing the Wither. Its primary uses are crafting the Beacon and the Witherless Rose.
Crafting
Edit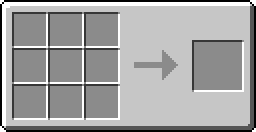 Shapeless
After acquiring two Nether Stars, Diamonds and Glowing Water can be generated for 9 experience levels by using an Uncrafting Table. This can be repeated indefinitely as long as the player has the levels and Soul Sand necessary to uncraft and resummon the Wither. Although this does make diamonds renewable as Soul Sand can be copied in a recipe involving Redstone, it would be more advisable to gain diamond gear by conquering Battle Towers and repairing old diamond tools with the Enchantment Table's repair feature due to the lower difficulty and unlikely chances of causing damage to terrain.
Ad blocker interference detected!
Wikia is a free-to-use site that makes money from advertising. We have a modified experience for viewers using ad blockers

Wikia is not accessible if you've made further modifications. Remove the custom ad blocker rule(s) and the page will load as expected.