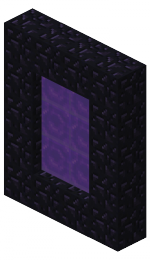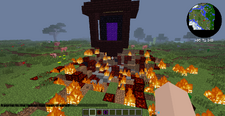 Visit the Minecraft Wiki for basic information about Nether Portal
Nether Portal is a multi-block structure found in vanilla Minecraft. Falling Meteors has a meteor type known as Kreknorite Meteor that can cause an active Nether Portal to be generated upon the meteor landing. In the event a meteor creates a Nether Portal the message "A portal to the Nether has been created!" will show in chat.If you go though the nether with the amour you get a special item that's very op called the destitute.
Nether portals cannot be made in the twilight forest.
The obsidian rings used to form nether portals, can be found in nether cities.
Unlit portals can be activated by Flint and Steel, a Fire Charges, fire spread, or another source of fire i.e. Ghasts, Blazes and certain infernal mobs.
It has been reported that the creation message may not be shown on multiplayer servers
Sometimes Nether Portal links will become corrupt and cause a different portal link to happen, in which case both portals must be destroyed in the process to close that link completely and rebuilt to establish a new one.
There have been rare reports of people dying in the nether and have a certain radius of blocks destroyed around their bed
Ad blocker interference detected!
Wikia is a free-to-use site that makes money from advertising. We have a modified experience for viewers using ad blockers

Wikia is not accessible if you've made further modifications. Remove the custom ad blocker rule(s) and the page will load as expected.