This article may not be 100% accurate due to an upcoming modpack version.
This item was removed in Hexxit 2.0.1c due to the removal of the LegendGear mod.
This tasty treat will cure status effects like a bucket of milk will, but is stackable.
It is surprisingly delicous.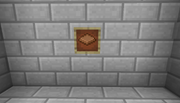 Crafting
Edit
Milk Chocolate is crafted with one each of Cocoa, Milk Bucket, and Sugar. 
Ad blocker interference detected!
Wikia is a free-to-use site that makes money from advertising. We have a modified experience for viewers using ad blockers

Wikia is not accessible if you've made further modifications. Remove the custom ad blocker rule(s) and the page will load as expected.