Jasper Block
ID
Unknown
Stackable
Yes (64)
Type
Unknown
Craftable
Yes
Added By
Project Zulu
The Jasper Block is a new block from the Project Zulu mod and is used to summon the Alpha boss Pharaoh. It can be crafted, but is also found as very rare loot in Project Zulu structures such as pyramids.
Crafting
Edit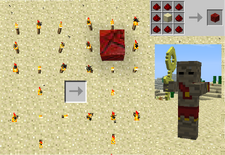 When used to summon the Pharaoh, the block will break if you place it before you place the torches.
The Pharaoh has a chance of dropping a Jasper Block, allowing you to easily re-summon him.
Ad blocker interference detected!
Wikia is a free-to-use site that makes money from advertising. We have a modified experience for viewers using ad blockers

Wikia is not accessible if you've made further modifications. Remove the custom ad blocker rule(s) and the page will load as expected.