Ice wastelands are part of the ExtrabiomesXL mod.
While slightly more hilly than a normal [[wasteland]], an Ice wasteland is mostly flat with no trees or large hills.
Ice wastelands are mostly composed of Snow and Ice, however sometimes there are some small ice ponds.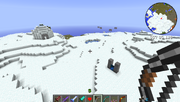 Ad blocker interference detected!
Wikia is a free-to-use site that makes money from advertising. We have a modified experience for viewers using ad blockers

Wikia is not accessible if you've made further modifications. Remove the custom ad blocker rule(s) and the page will load as expected.