Ice Staff
ID
7620
Stackable
No
Type
Weapons
Craftable
Yes
Added By
Better Dungeons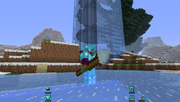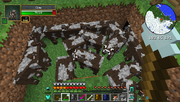 Ice Staff is an item added by Better Dungeons. It can be rarely found in dungeons chests and crafted. Left clicking on a mob will infect the mob with slowness for 10 seconds. This does not prevent them from acting, so walking up to them can still get you hit and enemies with projectile weapons will still shoot you. Right clicking will freeze as a ranged projectile, but the freeze only lasts for 3 seconds. The freeze effect is treated as a splash potion centered on the place you right clicked. Instead of affecting the "targeted" mob like most staffs, all mobs within a few blocks will also receive the slowness effect from the Ice Staff. [Tested]
The Ice Staff can be found as loot from Better Dungeons chests or mobs.
Crafting
 You will need 1 staff and 1 Ice Essence to craft the ice staff.
Unlike an actual Splash Potion, the Ice Staff appears to affect all mobs in the radius of effect equally. Mobs at the edge of the affected area receive the same 3 second of slowness that mobs on-target do.
Ad blocker interference detected!
Wikia is a free-to-use site that makes money from advertising. We have a modified experience for viewers using ad blockers

Wikia is not accessible if you've made further modifications. Remove the custom ad blocker rule(s) and the page will load as expected.