Ice Magus Rod
ID
6420
Stackable
No
Type
Weapons
Craftable
Yes
Is Loot
No
Durability
256
Damage
2 ()
Added By
Xeno's Reliquary
The Ice Magus Rod is a ranged weapon added by Xeno's Reliquary. When fired, this weapon does a full heart of damage. The rod does not lose durability, but instead absorbs Snowballs from the player's inventory; each Snowball equals one shot.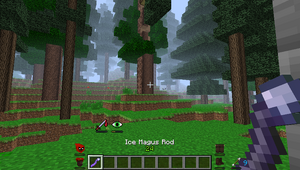 Ad blocker interference detected!
Wikia is a free-to-use site that makes money from advertising. We have a modified experience for viewers using ad blockers

Wikia is not accessible if you've made further modifications. Remove the custom ad blocker rule(s) and the page will load as expected.