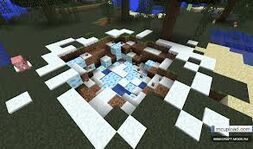 Frezarite meteors are the second most common meteors that one will encounter. When they crash, they leave snow, ice, and frezarite ore.
Upon crashing, the biome the ore crashes in will determine how long it stays. Crashing in a swamp biome, for example, the frezarite of ore will last for 10 minutes at most. If a Frezarite meteor crashes in a snow biome, its lifespan is infinite. 

Frezarite ore can be mined with a pickaxe tier stone or above. Frezarite ore is slightly luminous, emitting a glow weaker than that of a Redstone Torch.

Frezarite ore drops Frezarite Crystals. Using the Fortune Enchantment on a pickaxe can yield more crystals. These crystals can be used to craft Frezarite armor, tools and swords.
Ad blocker interference detected!
Wikia is a free-to-use site that makes money from advertising. We have a modified experience for viewers using ad blockers

Wikia is not accessible if you've made further modifications. Remove the custom ad blocker rule(s) and the page will load as expected.