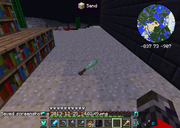 Emerald Rock Candy
ID
6028:3
Stackable
No
Type
Consumables
Craftable
Yes
Effects
Sugar Rush (00:15)


Speed III (00:15)
Haste IV (00:15)

Added By
LegendGear
Emerald Rock Candy is an item added by Legend Gear. When consumed, will grant a 15-second sugar rush as well as 15 seconds of Speed III and Haste IV. After consumption, a Stick will be left over.
Crafting
Edit
Ad blocker interference detected!
Wikia is a free-to-use site that makes money from advertising. We have a modified experience for viewers using ad blockers

Wikia is not accessible if you've made further modifications. Remove the custom ad blocker rule(s) and the page will load as expected.