Drying Rack
Comments

7
2,362pages on
this wiki
Drying Rack
ID
Unknown
Stackable
Yes (64)
Type
Utility
Craftable
No
Added By
Tinkers' Construct
Drying Rack is a block added by Tinkers' Construct. Drying Racks cannot be crafted in the current version of Hexxit.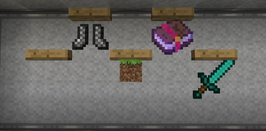 Crafting
Edit
In the latest version of Hexxit, Drying Racks can no longer be crafted.
There may be a bug in which it is very difficult to destroy the drying rack after placing it.
Prior to Hexxit 1.0.10, Drying Racks could be crafted
If you placed rotten flesh on a drying rack,after 2 seconds it would turn into leather. This is far more efficient and quicker than putting it in a furnace..