Darkwood Bow
ID
Unknown
Stackable
No
Type
Weapon
Craftable
Yes
Durability
163
Added By
Natura
The Darkwood Bow is a bow made of Darkwood Sticks and Flamestring. Both items, the latter of which is dropped from Heatscar Spiders, are added by the Natura mod. This bow has 162 uses and does 8 damage when fully charged, like all of the other Natura bows.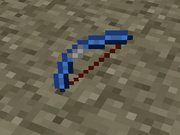 Ad blocker interference detected!
Wikia is a free-to-use site that makes money from advertising. We have a modified experience for viewers using ad blockers

Wikia is not accessible if you've made further modifications. Remove the custom ad blocker rule(s) and the page will load as expected.