Cactus
ID
81
Stackable
Yes (64)
Type
Unknown
Craftable
No
Smeltable
Yes
Added By
Vanilla
Visit the Minecraft Wiki for basic information about Cactus
Cactus
is a plant added by vanilla Minecraft. It naturally appears in deserts, and can be farmed on sand, but cannot be placed next to another block, aside from a few transparent ones, such as Fire or Torches. It is used to make Cactus Green by cooking it in a furnace. It harms any entities that come in contact with it and destroys any dropped items that touch it.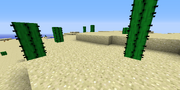 Tinkers' Construct
Edit
Cactus can be used as a toolmaking material in Tinkers' Construct. It has average durability and mining power, and has slightly increased damage because it has a base modifier of Jagged, which increases melee damage but lowers mining speed as the tool or weapon becomes more damaged. Cactus parts are made with wooden patterns.
Project Zulu Core
Edit
Cactus can be made into cactus cloth armor. Cactus cloth has the same protection as leather armor.
It is also made into Prickly Powder.
ExtrabiomesXL
Edit
Cactus can be made into Cactus Paste, which can be smelted using a furnace into cactus green.
Cactus can be made into Cactus Juice as an edible.
Ad blocker interference detected!
Wikia is a free-to-use site that makes money from advertising. We have a modified experience for viewers using ad blockers

Wikia is not accessible if you've made further modifications. Remove the custom ad blocker rule(s) and the page will load as expected.