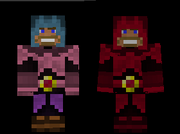 Bloodweave Armor is an armor set within the Harken Scythe mod that is made from the Bloodweave Cloth. They provide the same Armor points as Leather Armor and provide other uses as well. Like basic Leather Armor, Bloodweave Armor can be dyed.
When equipped, Bloodweave armor allows you to get the full benefit when drinking from either a Blood Vessel or a Bloodkeeper.
These benefits include:
Speed for 0:30
Strength IV for 0:30
Unfortunately, you still receive 5 seconds of Hunger for each dose.
It should be noted that consecutive doses of Blood will give you an additional 10 seconds of each effect.
Each piece of Bloodweave Armor is crafted like normal armors, but using Bloodweave Cloth.
Ad blocker interference detected!
Wikia is a free-to-use site that makes money from advertising. We have a modified experience for viewers using ad blockers

Wikia is not accessible if you've made further modifications. Remove the custom ad blocker rule(s) and the page will load as expected.